SHELBY THE AUTHOR. Hi and This is my site… Welcome! I am SHELBY the author.
Hello everyone!  I am SHELBY THE AUTHOR of this web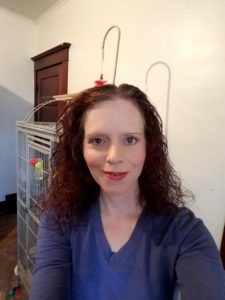 site.  I thought I would share with you a little bit about Myself.
First, This is my Blog site and my online business.  I LOVE doing this…this is my PASSION!
Second, I am a Nurse and have been for quite a while.  I enjoy my Job and helping others.  Both through Nursing and through mentoring New students that come through the Rory Ricord program.
I have so many thing that I want to do, to see and to accomplish.  On this note, I WILL achieve ALL of my goals because I DO NOT see failure as an option!
In turn, I hope to share my passions with everyone who comes here and everyone that I meet.
BINK MY PARROT by SHELBY THE AUTHOR.
First of all, this is my parrot, Bink.  He is a big part of my life and is a Goffins cockatoo.  Bink is more than "just" a pet, he is a part of the family.  I will soon be adding video's of Bink and myself soon.
On another note, it's important for everyone who is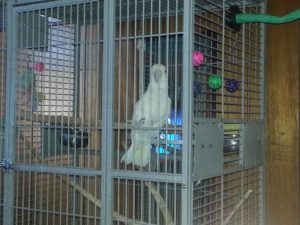 considering buying a cockatoo to know that they are a lot of work.
I would suggest researching these parrots before getting one.  That way if you do decide to get one, then you'll know what your getting yourself into.
In addition, He is a very noisy bird and many people have trouble with how loud these birds can be.  Also, they need a lot of play time too.
At least 2 hours each day.  They are very intelligent and need "training" time.  Cockatoo's
have the intelligence of a human 3 to 5 year old.  On this note they can learn to speak many words and phrases.
Many Cockatoo's have an obsession with feather plucking and over-pruning.  Bink has this problem and I have yet to figure out how to break him of it.
Overall, I Love this silly Bird and would be lost without him.  I can't imagine my life without him.  In the pic to the right you can see bink in his cage near the red ball.
Most likely this bird will out live me.  Cockatoo's can live up to 65 years and Bink is only 5 years old.  He talks a lot and enjoys singing.
Lately he has been saying a new phrase when he wants to play.  Bink will say, "I mean it!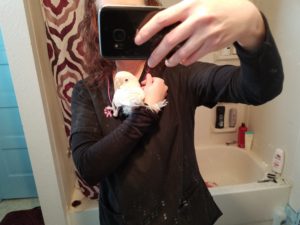 I'm Mad at you, I mean it".  He loves it when I sing "Barbara Ann" By the beach boys to him.
Of course he does have his naughty moments.  Such as when he "screeches" while I am trying to sleep because he feels that we should be playing.
At times he bites a bit when he is trying to get me to do what he wants.  Other times he throws a temper tantrum and starts throwing his food everywhere!  Having a Cockatoo is a lot like having a 5 year old that never grows up. Lolz 🙂
This site is always growing as I am always adding things!  I plan to add content and information on parrots and cockatoo's soon.
SHELBY THE AUTHOR – A Little Back Ground on Me
Hi, I am Shelby the author of this Blog site.  I have not been doing this for very long, but I really enjoy it.  This Last December I stumbled upon a "work from Home" program.  I was looking for something…but for the life of me, I couldn't explain what.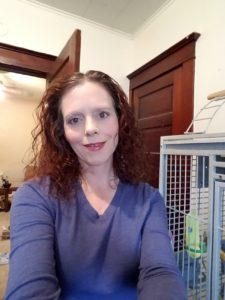 I was curious about this work from home thing.  So I did some research.  And then a few weeks later I thought, "what the Heck, I'll try it".  So I joined the Blog with Rory program.  I have not regretted this decision at all.  The funny thing is, is… that I actually signed up on Christmas eve.
At the Moment I am still working as a Nurse.  But I plan to eventually work from home full time.
Don't get me wrong, I love nursing!
But the craziest thing happened on my journey to seek knowledge.  I found that I Absolutely enjoy this!  This is maybe my second calling and not just a fun hobbie.
Ok… back to background info 🙂  First, I was born in Missouri, but have lived in Nebraska for most of my life.  I moved around a lot as a kid with my Birth Mother, my younger brother and older sister.
At the age of 9. My little brother and I was adopted.  We were 2 of 6 kids adopted into this New family.  From this time on, fitting in with other kids became difficult for the both of us.
I enjoyed studding a lot and really enjoyed Science Fairs and researching.  I focused on algae and it's impact on acid rain which won me a lot of awards.  My title of my science project went something like this; " 23 different species of Algae and it's impact on acid rain using 3 different volumes and sulfuric acid to lower the pH of acid rain".
MICHELLE THE AUTHOR (continued).
I worked many jobs as a young adult.  Which include; Walmart ca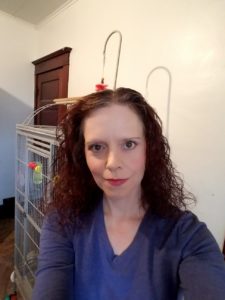 shier, a door to door Kirby vacuum salesman, a Welder, waitress, and office cleaner (to name a few).  I entered the Military by the time I was 24 as regular army.
I was in OSUT training as an M.P.  This combines basic training with AIT.  I had planned to make a career of it.  Can't get fired from the Military right?
WRONG!
To my dismay, I was injured.  I had only served 4 months.  I Broke my pelvis and herniated many disks in my back.  After Medical review…sadly, I was Med-boarded. This was a low time in my life.  I had always been so strong – Physically.  At the time I felt as if I was kicked out of a club that I wasn't supposed to be kicked out of.  "What the Crap" I said to myself.  Actually it was a lot more profane than "crap". Lol 🙂
Today and Now!  I have two son's that I am very proud of.  They are both taller than me now.  They are 12 and 16 years old.
First of all, I have a busy life and try to make room for my new and ever growing hobbies as well.  In addition, I love to Draw and paint.  Furthermore, I enjoy playing Wizzard101 with my sons.
On another note, I have started a new venture with YouTube.  I have two channels.  The first is Shelby's Edge and the second is Michelle's Blog.  With Shelby's Edge I am focusing on gaming and with Michelle's Blog I am focusing on Nutrition and what ever whim I go on from there.
I Am also a You-Tuber. I Love making video's for my Channels.  My boy's and I make many video's together and often do Live Streams together!  I have 2 channels on YouTube so far. They are; Shelby's Edge and Michelle's Blog.
Shelby's Edge is my Gaming Channel And is Becoming Very Popular. I play games and stream often.  While Michelle's Blog is Dedicated to helping my students learn how to set up their own Blogs.
Here are Some of My Video's On Shelby's Edge. I'm Playing Wizard101 in Celestia with one of My Son's who also has his own YouTube Channel.
Shelby the author.