There is a lot happening in the News Lately.  North Korea and their Behaviors has spiked my interest.  I feel that, "yes" we are on the verge of war with North Korea.  So…I started my research into North Korea and North Korean leader Kim Jong Un.  Here is the information I have compiled in one place for everyone who would like to know more on this subject.  Rather, without having to read 10 different articles to get the same information.
In addition, it seems as if Trump can't quite make up his mind on what he is planning to do about North Korea.  I feel his thoughts on what to do is; "yes, no, maybe so. And "yes" that's my final answer?"  Really President Trump?  Come on…if you don't know, Just say, "I have no comment at this time".  That's better than sounding all fickle.
North Korea continues Nuclear Tests.  What are they planning?
April 29, 2017
Is North Korea becoming a global threat?  Many are spe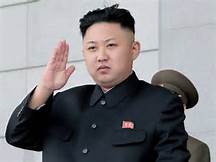 culating that North Korean leader, Kim Jong Un is Mentally Unstable.  However, Tillerson states that this is simply untrue.  My question is; WHAT is North Korean leader, Kim Jong Un thinking?  Is he just stupid or is he trying to start a war?
First of all, China has threatened Pyongyang with sanctions if the rogue government continues to disregard calls to stop conducting nuclear tests. which in turn are seen as a provocation to its regional neighbors and the U.S.
Although China has consistently called for an end to North Korea's nuclear weapons program. It opposes unilateral sanctions imposed without a U.N. mandate.
Tillerson, in an interview wi
th Fox News on Thursday, said that China is committed to implement sanctions on their own accord.  Furthermore, North Korea is aware of this.
Rather, potential for joint pressure on North Korea comes just as tensions in the region reach new heights.  Earlier Thursday, the senior U.S. Navy officer overseeing military operations in the Pacific said the crisis with North Korea is at the worst point he's ever seen.
On another note, U.S. intelligence agencies are unsure of how far along North Korea's nuclear missile program actually is.  However, it seems that North Korean leader Kim Jong Un intends to fulfill his pursuit of a nuclear-tipped missile capable of striking the United States.
Related: End Time Prophecy E-Course.
North Korea attempted and failed to launch a missile, the U.S. Pacific Command confirmed on Saturday April 8, 2017.
One official said that the missile was not an intercontinental ballistic missile (ICBM).  Which North Korea has claimed to possess but has never successfully tested.
U.S. Pacific Command states that the missile blew up almost immediately.  As far as I have researched, the type of missile is still being assessed.
Moreover, It's unclear why it failed. The missile was launched from Sinpo, on its east coast.
U.S. Defense Secretary Jim Mattis issued a short statement saying "the president and his military team are aware of North Korea's most recent unsuccessful missile launch. The president has no further comment." (CBS news, April 15, 2017).
Related: Fine Wine Delivered to Your Door.
North Korea warns of 'super-mighty pre-emptive strike' and threatens to turn US 'to ashes'
North Korean state media warned the United States of a "super-mighty pre-emptive strike" after Secretary of State Rex Tillerson said the United States was looking at ways to bring pressure to bear on North Korea over its nuclear program.
US President Donald Trump has taken a hard line with North Korean leader Kim Jong-un.  Who has rebuffed admonitions from China, his only major ally, and proceeded with nuclear and missile programs in defiance of UN Security Council sanctions.
This official Newspaper states; "In the case of our super-mighty pre-emptive strike being launched, it will completely and immediately wipe out not only US imperialists' invasion forces in South Korea and its surrounding areas but the US mainland and reduce them to ashes." (msn.com, April 21, 2017).
Reclusive, North Korea regularly threatens to destroy Japan, South Korea and the United States.  Furthermore, North Korea has shown no let-up in its belligerence after a failed missile test on Sunday.  Which is a day after putting on a huge display of missiles at a parade in Pyongyang. (msn.com, April 21, 2017)
"We're reviewing all the status of North Korea, both in terms of state sponsorship of terrorism as well as the other ways in which we can bring pressure on the regime in Pyongyang to re-engage with us. But re-engage with us on a different footing than past talks that have been held," Mr Tillerson told reporters in Washington on Wednesday. (msn.com, April 21, 2017).
Related: Fine Wine Delivered to Your Door.
President Donald Trump would not rule out the use of military force
against North Korea in an interview on CBS's "Face the Nation" on Saturday, just hours after Pyongyang launched a missile test in defiance of international pressure. (Washington, CNN).
Trump downplayed the significance of North Korea's "small missile launch," which occurred early in the day. But when asked by host John Dickerson if he would consider military action in response to another nuclear test, Trump responded: "I don't know. I mean, we'll see."
Check out these offers. Authors Choice.
References; Fox news.com; CBS news.com; MSN.com; Washington-CNN.