From Broken Family to adoption – my story. OK so I was scrolling through Facebook (which I rarely go on) and I stumbled upon a video that my brother released three weeks ago. I was baffled about the video. I am not going to go into much detail about what had happened but what I will tell you is that it stirred an emotion in me. My brother was very upset and was basically venting to family on Facebook and friends about a situation that has transpired. All I can conclude is that he, his wife and kid's have fallen on hard times.
I had not spoken to my brother since my biological dad's funeral. Probably been at least 6 months or so. It's hard to keep in touch with my brother because he changes his number often. Mainly due to dueling family issues and circumstances. You see my brother and I were adopted. So we, as adults have been thrown into another realm of expectations. We have at least two families that are constantly dueling for our attention, focus, and what not. We have our biological family as well as our adoptive family. It actually goes much deeper than that but when the time comes, I will talk about that as well.
From Broken Family To Adoption – My Story
First of all, this can get pretty complicated. I have been on the outskirts of family for a lot of event's, reunions, and of course holiday's. Being adopted isn't always an easy thing. I feel compelled to talk about my experience of  going From Broken Family To Adoption for many reason's. Sadly this will take time as my life growing up has been complicated in so many ways.
Second, I just realized how spaced out and broken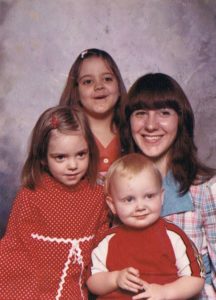 we have all become. I know part of the reason was my own choosing. You see… Both families are very complicated. Being adopted at the age of nine is not a normal thing for a person to go through. Heart wrenching actually. I had to deal with more than a child at that age should go through. I was told that "your mommy didn't want you anymore, that's why you are here". Actually I was supposed to go to counseling when I was adopted, but that fell through the cracks and didn't happen.
On another note, looking through Facebook and seeing all of the people I call "adoptive family" and "Biological family" is making me feel a certain way. Gosh! Where has all the time gone? I'm 39 years old now and I barely know any of them! My own mother…. I haven't talked with her or seen her for a year (biological mother).
From Broken Family To Adoption – My Story
"Oh man… I haven't seen My brother's since the funeral". Isn't it a little strange how as families we don't see each other until someone dies? Sad really. At least all of my families anyways. My family life is a bit complicated and I promise to reveal more as I continue to write about this subject.
Lately I have had an aunt (biological) IM'ing me on Facebook wanting me to deliver a message to my mom. She used the word's, "I know you are anti-family and all but can you have your mother call me". What a slap in the face! I am not anti family. I may have spoken to this woman only once or twice when I was in my early 20's. And all of a sudden she's just now speaking to me and I'm anti-family? I didn't choose to leave the family… I was thrown out! That's how I feel anyways. Many people that have been adopted may feel very similar to how I feel.
Furthermore, I am not sure what to say to her yet. I'm a bit angry with her choice of word's. I have been involved with family. But yes… I do keep them at arm's length. And for good reason too. I promise I will reveal why soon. I love my family and I always will. But some of them are not good for me. I want you all to understand that my story on adoption is quite rare and doesn't quite fall into the norm. I am currently writing a book on it. Maybe you will all read it some day.
Something that may be helpful – Panic Away: End Anxiety and Panic Attacks!
From Broken Family To Adoption – My Story
Anyway's, I kinda got off track there. I was thinking about how we all basically splintered off and went our own ways. I keep thinking, well maybe I should go visit one of my brothers. Then I think… But are they going to get me in trouble? I want to see them, but it may in fact harm me. What an awful and terrible feeling. I want to know them, but what harm is it going to do me? I know it seems selfish, but I do need to protect myself, my job, and my family after all.
Lastly, family can be complicated anyways whether you are from a natural family, a broken one, or adopted. I just realized how splintered we all have become. And how we really don't know each other anymore. Looking back I have many regret's. I have been trying to escape heartache for so long that I have lost sight of everything! As an adoptive child there is going to be a lot that I would need to work through in my younger years anyways. But with all of the extra circumstances… it's a wonder I am sane today!
In ending… I love my mom, my sister's and all my many brothers. Here is some meme's that remind me of my family as a whole (as follows).